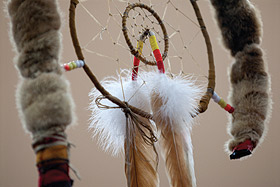 A community powwow to celebrate the traditions, cultures, and accomplishments of Augsburg College's Native American students will be held March 31 at Augsburg College.
"The powwow is a chance for Augsburg's indigenous students to share the traditions and culture of our peoples with the community," said Jennifer Simon, event organizer and director of Augsburg's American Indian Student Services.
"It also is an important opportunity for our community to celebrate the educational accomplishments of our native students and to plant the seed in young people that education can be part of their futures. This year's program includes a special ceremony to honor our largest group to date of graduating native students."
The powwow, which runs from 1-9 p.m., March 31 at Si Melby gymnasium, is cohosted by Augsburg's American Indian Student Services and Indigenous Student Association. The event includes food concessions, arts and crafts vendors, and informational tabling about Augsburg's educational opportunities and services for native students of all ages. One program specially designed for native learners is Naadamaadiwin, an online tribal program for native teachers to earn a Minnesota Special Education teaching license or Master of Arts in Education. The College also offers an undergraduate major in American Indian studies.
Registration for drums and dancers starts at 11 a.m., and there is no pre-registration allowed. Grand entries are at 1 and 6 p.m. At 3 p.m., 15 American Indian graduates from Augsburg will be honored.
To learn more about Naadamaadiwin, attend an information session at Augsburg from 6-7 p.m. on April 18 or May 23 at Oren Gateway Center. Questions can be directed to Sophia J. Jacobson at 612-330-1458.