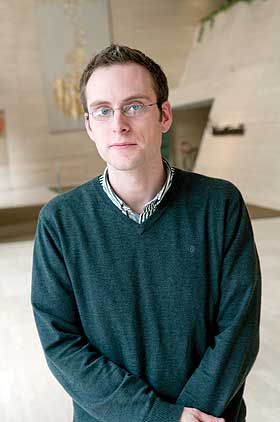 Its location in the heart of the city is one reason many students choose to study at Augsburg College. Being in the city offers distinct advantages to students, including opportunities to gain important career exposure and earn valuable experience that distinguishes them in the marketplace.
One example is that of Paul Hunt '13, a professional chef turned accounting and finance major who secured an internship through his participation in the Thrivent Leadership Fellows program. The program gave Hunt professional knowledge and the confidence to explore a new vocation in the world of corporate finance.
Augsburg's location provides access to 19 Fortune 500 companies and some of the country's most dynamic professional fields. The College currently partners with Thrivent Financial for Lutherans, Travelers, and Target Corp. in programs that provide learning opportunities and scholarships for students.
"Companies are actively and creatively seeking ways to build a pipeline of highly qualified, diverse employees," said Laura Roller, senior director of Corporate, Government, and Foundation Relations at Augsburg. "We know that about 70 percent of our graduates will stay in the Twin Cities, so working with Augsburg students makes great sense from a business perspective. Companies see their partnership with the College as a way to build the skilled workforce and customer base of the future."
From cooking instructor to accountant
The Thrivent Leadership Fellows program, which began in 2011, is a joint venture of Thrivent and Augsburg's Clair and Gladys Strommen Center for Meaningful Work. The primary purpose of the program is for students to engage their peers in volunteerism through programming and events both on and off campus.
During the program's first semester, the Fellows were given freedom to plan a variety of events based on their own interests and goals. Shannon Reidlinger, a senior new business development associate at Thrivent, said, "We stressed to the students that it was an ambiguous idea, but we wanted to let them loose and see what they did."
Hunt, who worked as a professional chef for 10 years before he enrolled at Augsburg, drew on his experience and scheduled cooking classes on campus. He taught students food preparation techniques while they made meals for the Campus Kitchen program at Augsburg.
In addition to teaching the classes, Hunt used skills he learned in his business courses to manage a budget for his project and serve as the Fellows' treasurer. His creativity and talent did not go unnoticed. A Thrivent employee who served as a mentor to the Fellows program asked Hunt about his career goals. Hunt said he wanted to work in corporate finance, so the employee took Hunt on as an intern in the finance partners division. When his summer internship ended, Hunt was hired as a part-time employee.
Building communities through volunteerism
According to Reidlinger, the Fellows program was a way to promote the company's community building efforts and to teach young people about Thrivent's services and values.
"We wanted to see if the spirit of volunteerism could extend beyond our company and our members," she said. "Testing the concept out at Augsburg made a lot of sense because Thrivent has many existing connections with Augsburg.".
In the program's first semester, the student Fellows worked with more than 200 Augsburg students who logged more than 650 volunteer hours. In addition to Hunt's cooking classes, the Fellows held ACT test tutoring sessions at Augsburg Fairview Academy and planned and served a multicultural dinner hosted at the Brian Coyle Community Center in the Cedar-Riverside neighborhood. They also sponsored a "foodless food drive" to raise funds for the Brian Coyle food shelf.
The newest group of Fellows has built on the lessons learned in the first year of the program, Reidlinger said, and they are partnering with local nonprofits to help those organizations meet their goals through volunteerism. "I think they're doing a good job trying to tap into their own passions and talents and being strategic about the events they hold and the way they're getting others involved," she said.
Reidlinger added that the program coordinators, Sandy Tilton of the Strommen Center and Mary Laurel True of the Sabo Center for Citizenship and Learning, provided support and community connections that were helpful in the Fellows' planning processes.
Partnerships benefit students and employers
Through programs like Thrivent Fellows, students gain community organizing and teamwork skills and also learn about the importance of networking. Reidlinger said the students were challenged because they were not given a specific volunteer assignment and instead had to create programs on their own. "Figuring out how to work together toward relatively ambiguous goals was beneficial," she said. "They learned how to be accountable and organized and how to schedule."
For Hunt, the Thrivent Fellows program was a way to gain experience that he believed would be beneficial in his future job search. "I was self-conscious about my résumé and lack of business experience, so I felt that making connections at Thrivent was a step in the right direction," he said.
Reidlinger added that through the program, the Fellows said they were able to meet people and build relationships—in the community and at Thrivent—which will be beneficial to the students in their future career searches.
Other corporate partnerships provide similar opportunities for Augsburg students. The Travelers EDGE program, which was launched in 2011, incorporates outreach to college-readiness programs and high schools in St. Paul, financial literacy training for college freshmen and sophomores, job shadowing and mentoring, course curriculum focusing on the financial services sector, and a scholarship program for juniors and seniors.
Mathematics professor Tracy Bibelnieks directs a program in which Augsburg students work on data analytics projects for Target Corp. The program provides internships and scholarships for students.
To learn more about internship opportunities and Augsburg's corporate partnerships, visit the Strommen Center for Meaningful Work website.