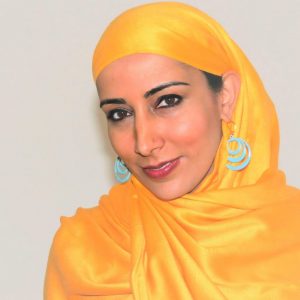 Augsburg University is pleased to announce that Najeeba Syeed has been appointed as the inaugural El-Hibri endowed chair and executive director of Interfaith at Augsburg, effective on August 1, 2022. In this role, she will serve as a national ambassador for the interfaith movement and will partner with campus leaders as a change agent for interreligious learning and living. She also will serve as the faculty advisor for Augsburg's Interfaith Scholars.
"Professor Syeed is an experienced mediator, a publicly-engaged scholar, a passionate educator, and a seasoned organizational leader," said Augsburg President Paul C. Pribbenow. "This appointment represents a crucial and exciting step forward in our commitment to enhancing interfaith leadership on campus and nationally."
For more than two decades, Syeed has been a professor and expert practitioner in the fields of conflict resolution, mediation, and interfaith studies. An award-winning educator, she has taught extensively on interreligious education and published articles on faith and community-based conflict resolution, restorative justice, and interfaith just peacemaking. She previously served for 10 years as an associate professor at the Claremont School of Theology. She also held faculty positions at Starr King School for the Ministry and Chicago Theological Seminary, where she was most recently associate professor of Muslim and interreligious studies. She has served as the co-chair of the American Academy of Religion's Religion and Politics Section and was a member of the Academy's Religion, Social Conflict, and Peace Section.
Syeed also brings significant executive experience in organizations focused on conflict resolution in community, higher education, and government settings, including the Western Justice Center Foundation and the Asian Pacific American Dispute Resolution Center. In 2021, she served as chief of staff to Nithya Raman, the first Asian American woman elected to the Los Angeles city council. She holds a law degree from the Indiana University School of Law and a bachelor of science degree from Guilford College.
"I am honored to serve as the inaugural El-Hibri Chair and Executive Director of Interfaith at Augsburg. This is a unique opportunity to extend and amplify Augsburg's remarkable interfaith work and to honor the generous and visionary commitment of the El-Hibri family, " said Syeed.
"My life's work combines a commitment to scholarship, teaching, and community organizing," she added.  "Listen, learn, partner, and co-create is the process I utilize to lead and build with fellow faculty, administrators, students, community leaders, and stakeholders from around the globe."
Interfaith engagement is a core aspect of Augsburg's academic mission and reflects the religious and secular diversity of the campus and surrounding community. Interfaith at Augsburg: An Institute to Promote Interfaith Learning and Leadership was established in 2019 to further the belief that religious diversity can be a constructive force serving the common good. In 2021, a significant gift from Fuad and Nancy El-Hibri allowed for the creation of the El-Hibri endowed chair and executive directorship for the institute.
Syeed's appointment helps to fulfill one of the goals of Augsburg150, the university's sesquicentennial strategic plan, to advance the public purposes of an Augsburg education by enhancing interfaith leadership on campus and throughout the nation. Building on the strong foundation established by Bishop Mark S. Hanson, founding director, she will lead a strategic planning process that strengthens, integrates, and extends the Interfaith Institute's work on campus and beyond.