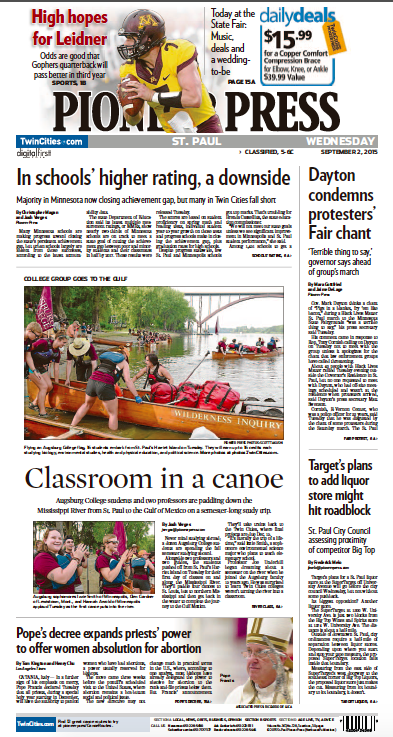 [Updated November 13] — The Augsburg College River Semester, created and led by Joe Underhill, associate professor of political science, departed from St. Paul's Harriet Island on September 1. As part of the kickoff, the River Semester class was joined by a group of nearly 100 students, parents, high school students and members of the Augsburg College community who paddled in a flotilla of 24-foot voyageur canoes from St. Paul to South St. Paul. Students participating in the semester-long program will earn as many as 16 credits in the arts, humanities, and sciences as they travel nearly 2,000 miles of the 2,350-mile Mississippi River.
The River Semester kickoff garnered a range of attention. Gov. Mark Dayton proclaimed September 1 "Augsburg College River Semester Day" and many media outlets covered the launch of the class.
Since the students and faculty departed on their voyage, print and broadcast media have been sharing the story of this hands-on, interdisciplinary program. In fact, multiple stories have been picked up by the Associated Press and shared through the AP's member media throughout the nation.
A snapshot of the ongoing media coverage is below. As additional coverage occurs, it will be added to this post.
November 9
October 16
The Mississippi River is their classroom, The Hawk Eye, Burlington (Iowa)
October 15
College student trekking down the Mississippi, White Bear (Minnesota) Press
October 8
September 29
Continue reading "River Semester media attention grows as class travels down-river" →