Today is Giving Tuesday! A global movement that started in 2012 and encourages people and organizations to come together and transform their communities and the world. At Augsburg, we continue to center our students and make sure that they have the resources and tools to go out into the world as leaders.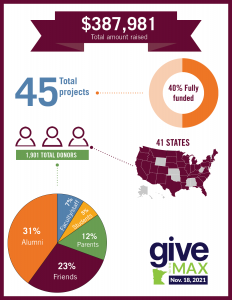 We recently completed our Give to the Max Day campaign and the results have blown us away! Here is a breakdown of what we accomplished:
$387,981 total amount raised.
1,901 donors.
40 % of the 45 projects were fully funded and several others were incredibly close to reaching their goals.
People gave across 41 states and one came in from France!
Our donations were also made up of 31% alumni, 23% friends, 12% parents, 7% faculty/staff, and 5% students.
We are excited to share that since we concluded, we have reached our goal of 1,900 donors and 16 projects have been fully funded! We are optimistic that we will reach our fund goal of $400,000 by the end of the year. Giving Tuesday is a great opportunity to visit our GiveCampus site and support any of our 45 projects.