Over one thousand miles away Lewis Nelson '00, a history major, sat in front of a map in his office, which was posted behind him on the wall, meticulously pinned with various places he had visited.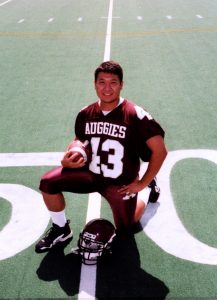 Graduating high school from a small town in Wisconsin, Nelson reflected on why he initially chose Augsburg University–because of the urban environment, sense of community, and football.
But during his freshman year, Nelson, like many freshmen, felt the struggle of adapting to the new environment at first.
"And then, I started meeting more people," Nelson said. "I began to participate in activities and student organizations, and I just got more involved on campus."
His pitch rose with excitement, speaking about how he became an orientation leader and joined the Augsburg Student Activity Council.
Once he was fully immersed in the culture, Nelson said he was enamored by Augsburg's diversity, and through it he learned that he could get along with anybody from anywhere.
Not long after graduation, Nelson joined the U.S. Army, where his experience at Augsburg gave him a leg up on his peers, he said.
"Augsburg helped me cultivate vital skills such as critical thinking and leadership," said Nelson. "Skills that continue to serve me today, and that's why I give."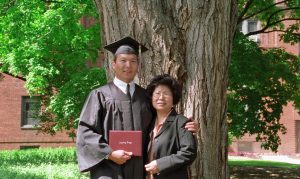 Nelson's giving journey began when he received a call from a student about the Augsburg Fund. Since then, Nelson has made a habit of giving.
He said giving to Augsburg gives him a sense of pride and keeps the legacy alive, and upholds the value of a degree that has meant so much to all the students that attend Augsburg University.
"The feeling of giving back to the place that made me who I am today not only gives me personal pleasure, but it brings joy to other people's lives'," Nelson said. "I encourage anyone to give what they can."
You can donate to the Augsburg Fund and/or student organizations like the ones that made such an impact on Nelson's life by visiting Augsburg's giving page.
Any gift made to any program will automatically count towards your class' total for the Alumni Class Challenge!