Spring 2016 undergraduate class is the most diverse in College's history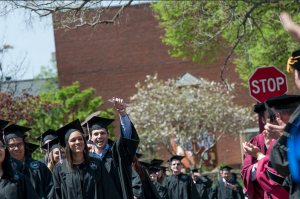 The Augsburg College community on Saturday, April 30, will celebrate the success of students from its Minneapolis and Rochester campuses, including the traditional undergraduate class that is comprised of more than 42 percent students of color.
In the past 10 years, since Augsburg College President Paul C. Pribbenow has led the institution, the College has more than tripled the percentage of persons of color in the full undergraduate student body – growing from 11 percent in 2006 to 33 percent in 2016.
"An Augsburg education is marked by broad and intentional diversity in which students learn at the intersections of academic disciplines, diverse viewpoints, rich faith traditions, socioeconomic backgrounds, gender expressions, military commitments, learning styles and more," Pribbenow said.
"We know that in order to secure a vital and vibrant future for our cities, state, and region, we must be united in our drive for equity. Our location in the city – in one of the most diverse ZIP codes in the nation – allows Auggies the unique advantage of leveraging the richness and abundance that these many forms of diversity offer."
Continue reading "Commencement Season Kicks Off April 30 at Augsburg" →